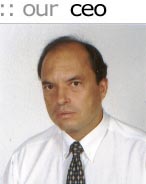 Efthymios Kypridimos has 20 years of experience in the International Market, the last twelve of which were focused
on the market segment
defined by the former states
of the Soviet Union.

He worked as an external consultant with the Alpha
Bank, Cyprus for seven
years assisting the banks International Business Unit Department expands to the Russian market.

Eftymios is a member of the Cyprus – Russian Business Association and the Cyprus Federation of Employers and Manufacturers.
Testimonials
"Mr. Efthymios Kypridimos is well known to lombard NatWest Bank for more than seven years. During this period we have used his services in connection with our eastern European clients. He is considered honest, trustworthy, highly reliable and well versed in his line of business. The above information is given without any responsibility on the part of Lombard NatWest or any of its officers."
Demetris Photiades, Head foreign & Major Corporate Institutions, Alpha Bank
"We've been working with Mr. Efthymios Kypridimos for more than 10 years. He is high reliable and he has a professional approach to each issue. His response was always incredibly quick and I'm always recommending his services to other companies."
G.P. Sobolev, Scansov ship management company, Stockholm
We know Mr. Efthymios Kypridimos since 1994, and many times address to him asking for his services. He is very honest and trustworthy. He has a broad knowledge, and maintains high service standards. We certainly recommend his services."
Victor Velilcov, Lukoil Maritime, General Director